Claude Dozorme cutlery is known and recognized for its folding knives, its table knives, its kitchen knives and its hunting knives, but not only! The cutlery imagines and designs in the heart of her workshops in Thiers other everyday objects that are just as sharp. This is the case of multi-slicer kitchen accessory, an essential accessory for any good cook!
An indispensable ally of everyday life, multi-slicer kitchen accessory, as its name suggests, was designed to slice any food, from tomato to bread, sausage or cheese. It is also very useful for splitting chestnuts before toasting them. Cutting and slicing is now child's play!
A razor sharp to cut everything
Like Claude Dozorme's kitchen knives, the cutter blade is made of stainless steel. It has a razor-sharp edge on both sides (one with teeth, the other smooth) and a very sharp angle allowing it to penetrate any food and then cut it.
Its stainless-steel upright has been specially designed to accommodate food of all sizes. Thus, carrots, cucumbers, baguettes, tomatoes, dry sausages… Everything can be cut by the multi-slicer kitchen accessory (subject to the size of the food)! And even meats, whether roasts or filet mignon thanks to the edge of the blade which allows them to be sliced without tearing them. A real professional kitchen knife!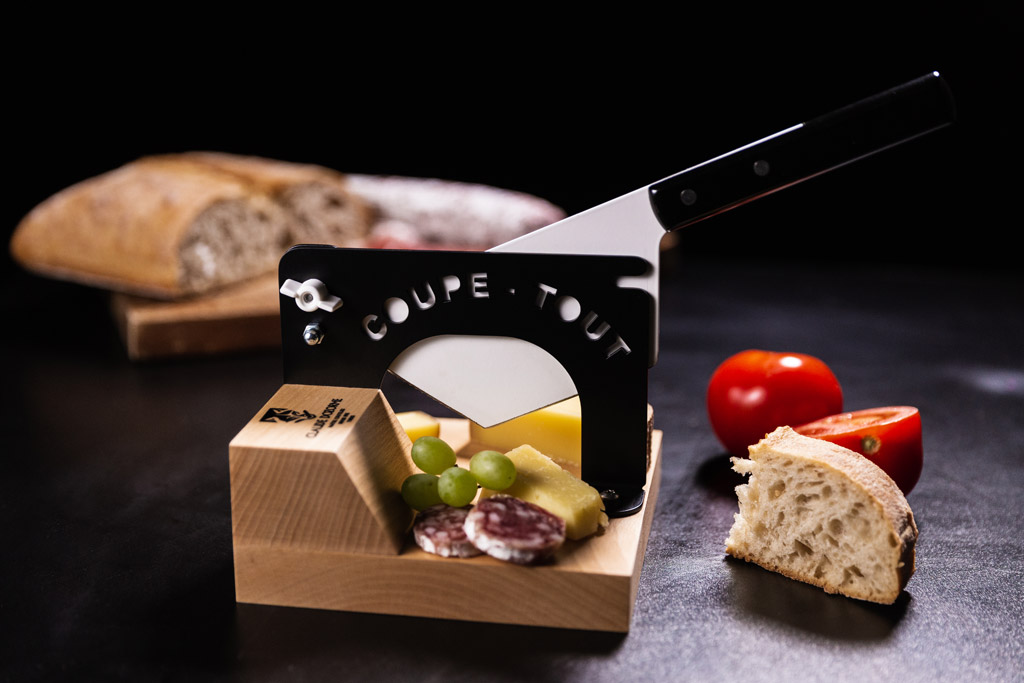 Hygienic and aesthetic
With its food epoxy coating, the blade offers perfect hygiene. It is quite possible to switch from one food to another while retaining all their flavor. The blade is also easily removable. It is therefore very easy to clean and re-sharpen. And far beyond its practicality, the multi-slicer kitchen accessory will look great in the kitchen with its beech base and its black or burgundy steel upright.
Entirely made in the heart of the Thiers factory, Claude Dozorme's multi-slicer kitchen accessory undoubtedly reflects innovation and cutlery know-how imbued with modernized tradition. A tool 100% made in France to leave prominently on its work plan!
Want to shop Claude Dozorme's multi-slicer kitchen accessory?
Visit our online store, La Grande Coutellerie.