Faithful to its core principle, the fusion of creation and innovation, the Dozorme firm regularly joins forces with famous personalities or wellknown designers.
This is the case of Thomas Bastide, famous designer for Baccarat among others, who imagined for the family cutlery two magnificent creations based on the Le Thiers® knife: L'Âme and Le Shadow.
Le Shadow by Thomas Bastide
Unusual and atypical, Le Shadow is the first table knife with an asymmetrical and angled handle. This angled handle holds the blade above the tablecloth. An original object of both the most aesthetic and ultra practical ! Moreover, its thicker handle on one side than on the other makes its excessive gripping pleasant and totally ambidextrous. Not to mention that its very high-end steel gives it a smooth edge allowing easy resharpening.
Le Shadow is acclaimed by the great names of the french cuisine and proudly adorns the most beautiful tables like those of the star chef and best worker of France, Jacques Decoret in his restaurant eponymous located in Vichy.
L'Âme by Thomas Bastide
For Thomas Bastide, the soul of a knife lies in his blade. Starting from this postulate, he magnifieded this blade by undressing it from one side of the knife. Thus naked, the blade reveals itself in splendor and sobriety and plays its appearances with its asymmetrical handle which allows it to hold in balance on the right side and thus does not touch the tablecoth.
Who is Thomas Bastide ?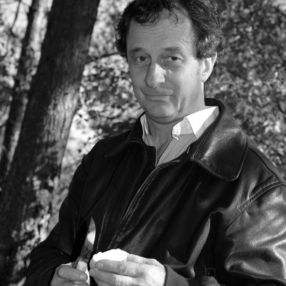 Born in 1954 in Biarritz, Thomas Bastide lives and grows in Paris where he joins the Higher School of Graphic Arts (Penninghen) before heading towards industrial design at the National School of Applied Arts and crafts. Creator of Baccarat since 1981, his talent and passion lead him to work for other great names of luxury: Hennessy, Christofe, Ercuis, Odiot, Hermes and many others.
For his first collaboration with the french cutlery Claude Dozorme, Thomas Bastide has allowed his heart and creativity to speak by proposing L'Âme and Le Shadow, two sumptuous original and subtle creations. Lately, the designer has imagined a brand new range of kitchen knives called Flat Cut which we will talk about soon…
In the meantime, if you also want to sublimate your table with Thomas Bastide's creations Le Thiers®, do not hesitate to consult our shop online.