Le Thiers® Liner Lock pocket knife : a nomad knife ultra-flat and ultra-light
Le Thiers® Liner Lock pocket knife is one of the great successes of the Claude Dozorme's brand. This range of knives seduces lovers of stylish knives.
Indeed, Liner Lock pocket knives created by Claude Dozorme are extra flat and extra light. Thus, these pocket knives are very easily transportable, remain very discreet and they are not bulky. You can easily slip them into the pocket of a shirt or bag.
Moreover, these pocket knives adapt to both city life and country life. Small and very light, these pocket knives are very practical to take with you everywhere. Furthermore, Le Thiers® Liner Lock pocket knife have a Lock opening and closing system. This opening system is very safe and offers simple and safe handling.
Otherwise, the handles of Liner Lock pocket knives by Claude Dozorme are in very noble materials or natural essences. Thus, handles of these pocket knives can be dressed with horn (light horn, black horn, ram, antler, …). We also find wooden handles (vallernia, olive tree …)
Moreover, the steel used for pocket knives (X50CrMoV15) is a very high quality steel. It gives the knives made by Claude Dozorme, an excellent cutting performance and it's very easy to resharpen.
Finally, Le Thiers® Liner Lock pocket knives are entirely made in the workshops of master cutler Claude Dozorme. Claude Dozorme's pocket knives are guaranteed 100% made in France, in the respect of the cutlery tradition.
Find out Le Thiers® Liner Lock pocket knife
Advantages of Le Thiers® Liner Lock pocket knife :
100% made in France
Nomad knife ultra-flat and ultra-light
"Liner" opening-closing mechanism, very safe
Exists in 3 sizes
Back clip which can be used as a money clip
X50CrMoV15 steel (0.50% carbon, 15% chrome, 1% molybdenum): excellent cutting performance and easy re-sharpening
Attached onto an explanatory card
Side protection of the blade's edge
Wide-ranging choice of materials
Avec un large choix de matières de la côte, il existe en revêtement noir type Teflon de la lame et du corps du couteau,
variante purement esthétique se patinant avec le temps.
Les croisillons apposés sur un plexiglas de couleur rappellent la Tour Eiffel, les colombages des maisons médiévales.
Couteau de plus petite taille que la gamme classique, nomade ultra plat, ultra léger ne pesant rien dans un sac à main.
Lame et corps du "liner" en damas équivalent 120 couches, avec une révélation très profonde des motifs du damas.
Livré dans un coffret chêne vernis avec un étui de protection en cuir.
Couteau livré avec une lame non coupante et bout arrondi pouvant être affûtée lorsque l'enfant grandit.
Idéal pour préparer les greffons : la forme particulière de la lame permet l'incision facile des branches ou du tronc afin d'y insérer le greffon.
Convient également à la coupe et à la finition des arbustes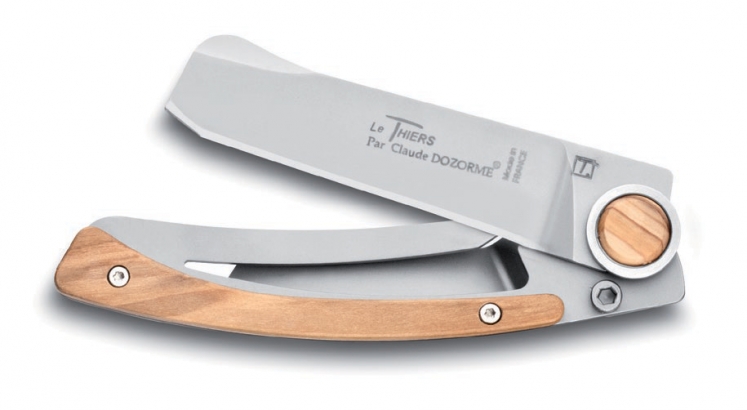 Un manche dédié à la promotion de la candidature de la Chaîne des Puys au Patrimoine de l'Unesco.
1 couteau vendu = 1 euro versé à l'association dédiée au soutien de la candidature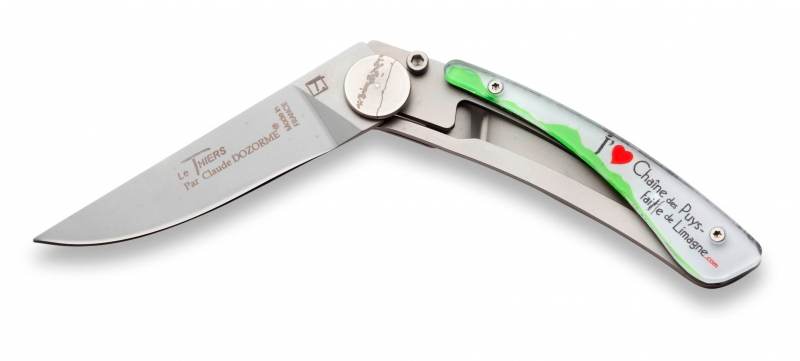 Very safe "Liner Lock" mechanism