A classic knife : Laguiole steak knife by Claude Dozorme
Laguiole, this small village of Aveyron gave its name to a famous pocket knife with a curved handle adorned with a mythical bee. It was very popular with a folding knife in the last century by peasants who went on transhumance. Laguiole is not a knife brand but a form of unprotected knife, currently many cutlers make this model using techniques and especially with very different materials. Claude Dozorme brought his signature and was the first to manufacture in France the Laguiole steak knives with a fixed blade. All the knives of its manufacture bear its name, proof of quality and safety for the consumer as for the high quality of the materials used but also as for its place of manufacture.
As the other Claude Dozorme steak knives, the blade of the Laguiole steak knife is made with X50CrMoV15 steel, a very high quality steel. This steak knife cut very well and it's easy to resharpen.
These knives, whose manufacture is signed Claude Dozorme, are 100% made in France in the workshops of Master Cutler since 1902. All stages of manufacture are integrated internally, which guarantees knives craft, of very high quality, 100% French.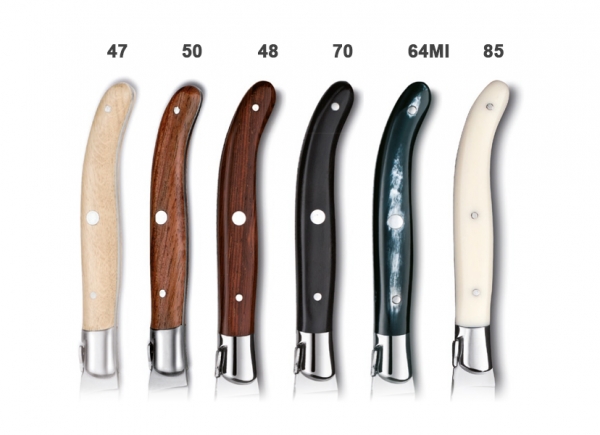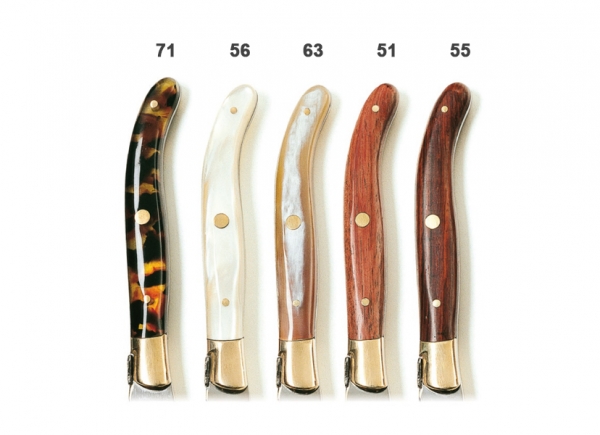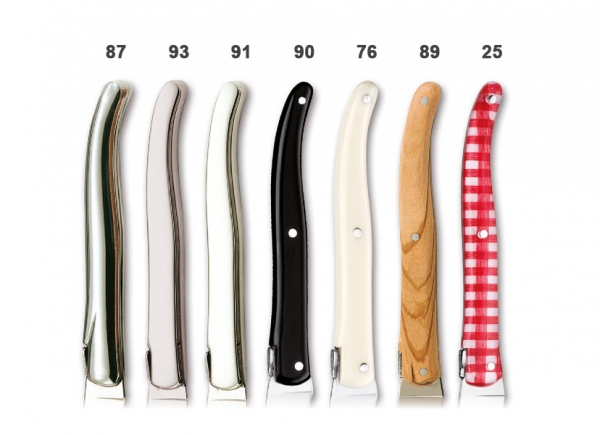 | | |
| --- | --- |
| 47 Juniper wood | 50 Exotic wood |
| 48 Vallernia | 70 Ebony wood |
| 64MI Black horn | 85 Ivory |
| | |
| --- | --- |
| 71 Flake | 56 Natural |
| 63 Light horn | 51 Exotic wood |
| 55 Rosewood | |
| | |
| --- | --- |
| 87 Aluminium | 93 Matt finish |
| 91 Shiny finish | 90 Black |
| 76 Cream | 89 Olive wood |
| 25 Vichy | |
Find out the Laguiole steak knives
Advantages of the Laguiole table knives :
100% made in France
Mat or shiny stainless blade
Wide blade going all the way up to the end of the handle
Blade : easy to resharpen top-of-the-range X50CrMoV15 steel
Smooth cutting making it easy to resharpen
Grinding resulting from precise and fine sharpening
Tip of the blade hard but sharp
Razor sharp and excellent cutting performance
Brass or stainless steel bolster
Methacrylate handle (dishwasher safe)