Le Thiers® steak knife by Thomas Bastide : original knives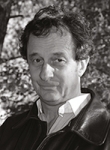 Thomas Bastide was born in 1954 in Biarritz (France). He lives and grows up in Paris. He studies at the Graduate School of Graphic Arts (Penninghen) and he is moving towards the industrial design at the School of Applied Arts and Artistic Careers.
Designer for Baccarat since 1981, he also works with other luxury brands: Hennessy, Christofle, Ercuis, Odiot, Hermès, etc.
Thomas Bastide has created two range of original steak knives Le Thiers® by Claude Dozorme.
Thomas Bastide has created "L'Âme" et le "Shadow", two beautiful creations, atypical and modern. The handle is made with "bakelite". It is a noble material, and it's dishwasher safe.
Find out the most beautiful creations of steak knives by Thomas Bastide for Claude Dozorme
These knives, whose manufacture is signed Claude Dozorme, are 100% made in France in the workshops of Master Culter since 1902. All stages of manufacture are integrated internally, which guarantees knives craft, of very high quality, 100% French. Claude Dozorme manufactures his knives in the respect of the cutlery tradition for more than 100 years.
Blades are made with X50CrMoV15 steel, a very high quality steel. Knives cut very well and it's easy to resharpen.
The name "l'Âme" is a french word game. The name of the knife echoes the blade. In fact, in French, "l'Âme" et "la lame" ("la lame" means "the blade"), it's the same sound. This knife has a handle on one side. This steak knife shows the blade of the knife along the handle.
The "Shadow" knife has a asymmetric handle. The handle is bigger on one side, so this knife is very good to take in hand, he is very ergonomic. Colors around the handle can be different.
The Diamond Cut model has a handle cut in nickel and clockwork brass, which gives it that "diamond" look. These knives are delivered in an oak wood box.
The talent of the designer Thomas Bastide, associated with the know-how of the Master Cutler guarantees original knives, quality 100% French.
Advantages of "Le Thiers®" by Thomas Bastide steak knives :
100% made in France
Shiny or mat stainless blade
Model signed by a leading designer on the back of the blade
Extremly comfortable ambidextrous handling, fixed with tork screws
The blade does not touch the tablecloth
Possibility of laser marking personnalization
Very high quality steel : X50CrMoV15
Smooth cutting and very precise sharpening which makes it easy to resharpen
Razor sharp
| | |
| --- | --- |
| | Miroir noir |
|   |   |
| | Miroir crème |
| | |
| --- | --- |
| | Crème – Noir |
|   | |
| | Noir – Crème |
|   | |
| | Crème – Rouge |
|   | |
| | Noir – Noir |