Regional Liner Lock pocket knife : collection of Liner Lock pocket knives in relation with different regions of France
Claude Dozorme revisited the traditional Liner Lock pocket knife. Indeed, this pocket knife already exists in Laguiole shape and Thiers® shape. Extra flat and extra light, the Liner Lock pocket knife can be transport everywhere. In town or in the country, it slips easily into a pocket or bag. It is a pocket knife very discreet and very practical.
Moreover, the blade of the Liner Lock pocket knife is made from very high quality X50CrMoV15 steel. These pocket knives cut very well and it's very easy to resharpen.
Thus, Claude Dozorme revisited the traditional pocket knife Liner Lock to adapt it to different regions of France. Then, we find the Alps, Alsatian, Corsica, Capuchin, Perigord and Pradel. Claude Dozorme gets into the pure French tradition through pocket knives in the image of several emblematic regions of France.
Claude Dozorme also declined the pocket knife Liner Lock with the model "London". Like his namesake for the table, this pocket knife is reminiscent of the one used by sailors. Indeed, the sailors had knives with round toe, shaped like a sheep's foot.
Moreover, in order to guarantee 100% French authenticity, Claude Dozorme manufactures his pocket knives in his own workshops in Thiers, the French capital of cutlery. All steps of manufacture of Claude Dozorme brand knives are integrated internally. Thus, the centenary cutler demonstrates a real know-how in the manufacture of his knives, always in the respect of French cutlery tradition.
Find out the range of Regional Liner Lock pocket knives and the London Liner Lock pocket knife
Advantages of Regional Liner Lock pocket knives :
100% made in France
Side protection of the blade's edge
Wide-ranging choice of materials
X50CrMoV15 steel (0.50% carbon, 15% chrome, 1% molybdenum) : excellent cutting performance and easy re-sharpening
Ultra-flat, ultra-light nomad knife
Highly secure "liner" opening-closing system
Back clip which can be used as a money clip (except London)
Attached onto an explanatory card

London all stainless steel

London with teck handle

Alsacian

Alsacian wood

Pradel
Pradel wood

Corsica all stainless steel

Corse knive

Capucin

Capucin wood

Alpin

Alpin wood

Perigourdin

Perigourdin wood
Un mécanisme Liner sécurisant
1. The blade is locked by the spring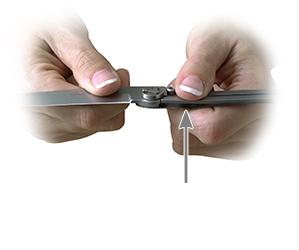 2. With pressure on the spring: the blade can be closed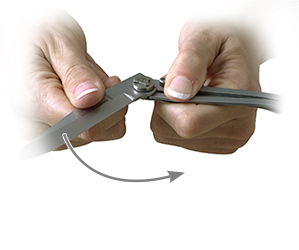 3. The blade is unlocked. You can close your knife.