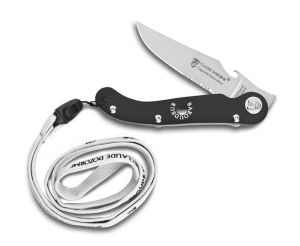 Since 1902, Claude Dozorme sublimates an ever more daring cutlery. Derived from ancestral know-how, modernized and jostled, the creations of the Manufacture, entirely created and handcrafted in France, are resolutely turned towards the future and technical innovation. This is particularly the case for its range of outdoor knives: Liner lock Le Thiers® and Le Baroudeur Laguiole. Faithful partners of hikers and open spaces lovers, these 2 knives have been specially designed to meet all expectations and all needs.

Today, to increase the value of its pocket knives among the youngest, the family-owned company wanted to stage them through a small film orchestrated by a young start-up from Clermont, HMWK :
For Claudine Dozorme, manager of cutlery, the idea was to draw a parallel between Dozome's cutlery know-how and the innovative nature of the knives to stick to the brand's "modernized tradition" brand.
For HMWK, there was no question of communicating raw and obvious on the knives but rather turning to a more subtle presentation that would value the values of manufacturing: quality, sharing and trust.
Blanche, one of the managers of the audiovisual company and director, explains the creative principle: « During this project, we wanted to anchor the brand on a territory, in a past and in values. Thus the knife appeared to us as the extension of the arm, the tool that makes sense, that ensures, the one that we have in all circumstances, even the most atypical. Climbing naturally seemed to us to be the ideal subject for moving the "product message", while keeping the ideas defended through the Claude Dozorme knives. It was for us the possibility to avoid some common places to highlight the use and the user of the knives Claude Dozorme. ».
The result ? A bluffing clip to the aesthetics of more neat mixing indoor and outdoor images shot between manufacturing workshop in Thiers and Sancy.
The brand Claude Dozorme? More than ever in the air!