Cheese…
In France, there are no less than 1,000 varieties, of all sizes and all shapes, made from cow's milk, sheep's milk, goat's milk, soft cheese, pressed, cooked, uncooked, blue… There are so many that we wouldn't have enough place in here to list them all! 😊
And consumption side, the French are not outdone with 26kg per year and per personn! Traditionally served on the tray at the end of a meal, it is more and more appreciated as a starter like "tapas".
However, its cutting and its service are governed by very specific codes. It is, in fact, most important to use the appropriate knives according to the types of cheese so as not to mix the aromas of the cheeses with each other. It's not about doing anything.
This is why, faithful to the preservation and sustainability of the French art of living, Claude Dozorme cutlery has given birth to a range of products dedicated to this national emblem, entirely manufactured in its workshops in Thiers.
A dedicated knife for each cheese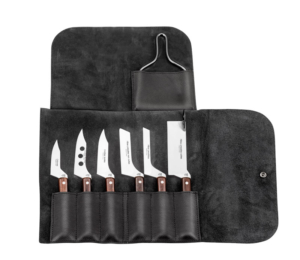 In collaboration with CNIEL, the manufacturer has developed cheese knives for dining room service in restaurants. Plate cutting is, in fact, a real spectacle in itself which is done in continuity of service. It requires making beautiful regular and appetizing portions while limiting food losses and waste.
A leather pouch containing 6 cheese knives signed Dozorme was thus created. Each piece has been studied by a cheese MOF to make clean cuts of cheeses according to the different textures, pastes or shapes. It also allows students of hotel lycées to calmly grasp the cutting of cheeses.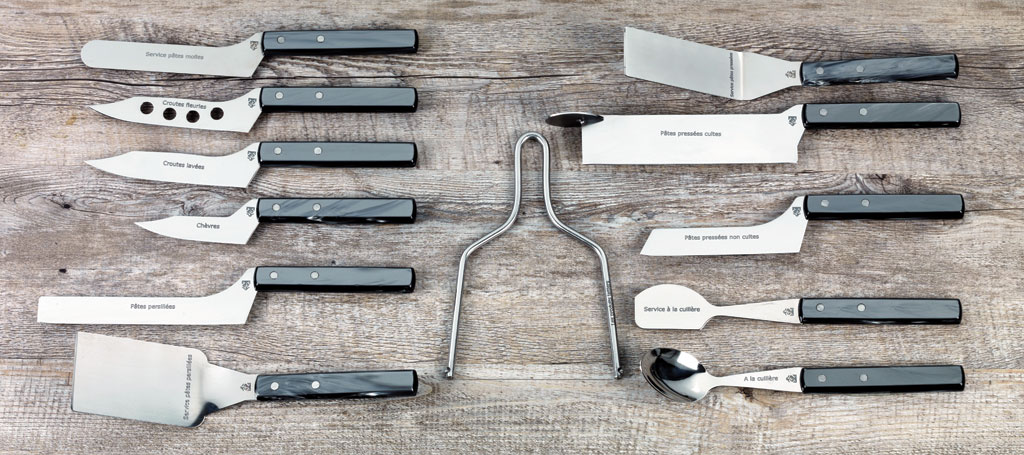 Say "cheese" in XXL!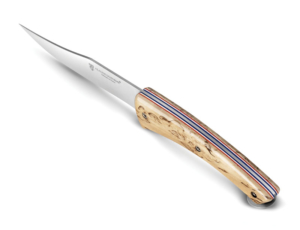 Like the fashion accessory that gives style to any outfit, the large Dozorme cheese knife will bring the final touch to any tray.
It must be said that with its XXL format, its dwarf birch handle and its blue, white and red turntables reminiscent of "Meilleur Ouvriers de France" 's collars, the latest addition to the "Made in France" range does not go unnoticed and is displayed proudly alongside the finest cheeses.
Unusual, the Cancoillotte spoon
While Paris has its Eiffel Tower, the Cancoillotte, a cheese specialty from Franche-Comté now has its spoon! It must be said that with its runny and flowing texture, the "Canco" is a special dish that can be enjoyed with a spoon, preferably small!
To appreciate it as it should, it therefore needed the appropriate utensil, perfectly suited to its tasting and its service. Immediately requested by the APC, Association de Promotion de la Cancoillotte, immediately created by cutlery Claude Dozorme!
A most useful promotional tool!