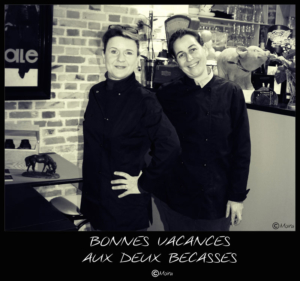 After the Auvergne and Touraine, our gourmet tour of France takes us to Sologne and more precisely to Cerdon-sur-Loire.
In this hunting area par excellence, nestles a restaurant of the most discreet evocative and symbolic name: The 2 Bécasses. Opened in 2015 and run by 2 women, Hélène Tubach and Sandrine Martinez, the establishment offers a cuisine based on fresh produce that is simple, traditional and seasonal. Focusing on local resources, the 2 Bécasses seeks to find the authenticity of a generous cuisine.
No lack of taste in the room also where the decoration skilfully mixes vintage tommettes, exposed beams, walls of briquettes and lime plaster. A simple and authentic decor, just like their kitchen.
And as here nothing is left to chance, every detail has its importance! Thus, the Laguiole table knives, signed Claude Dozorme, display an authentic woodcock feathers in their sleeve. The perfect final touch!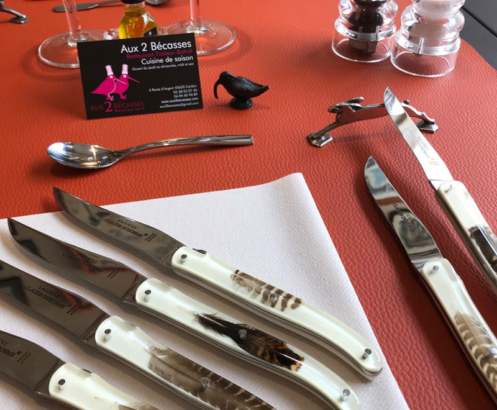 It must be said that the 2 friends and especially Hélène Tubach, know well, and for a long time, the manufacture from Thiers. Indeed, before embarking on this beautiful gastronomic adventure, the young woman worked for a long time as a journalist for various magazines. It was during her career as a journalist that Helen discovered the family cutlery and met the sparkling Claudine Dozorme.
Pretty soon, she wanted to collaborate with the family cutlery for several reasons as she points out "In addition to offering beautiful knives, very elegant with a perfect edge, Claude Dozorme cutlery places quality at the heart of its concerns. Just like me with the restaurant. It's really what binds us. " A collaboration that is not ready to end!
Aux 2 Bécasses
6 route d'Argent
45620 Cerdon du Loiret
02 38 05 07 45 • 06 84 60 90 89
aux2becasses@gmail.com
www.aux2becasses.com