Last Thursday, June 20, 2019, Charlotte Charbonnel, the Parisian artist in residence at Claude Dozorme since the beginning of the year, has unveiled its first creative tracks, fruit of its working sessions within the cutlery. A first release pending full exposure from its work on metals, scheduled for June 2020.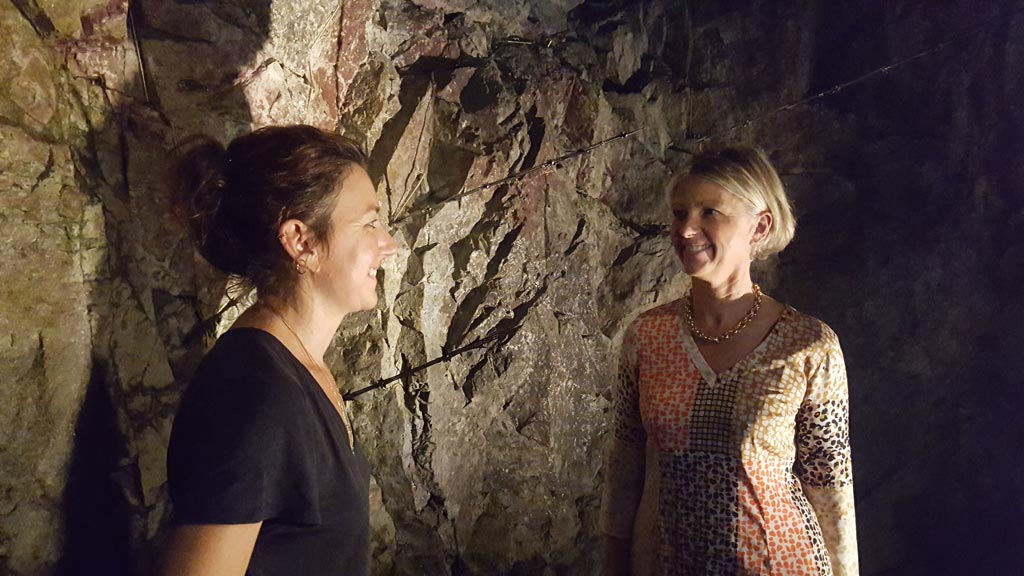 Named Nucleus and installed in the Cave of the contemporary art center "Le Creux de l'enfer", this installation features multiple arrows made from skeletons of damask metal, with the help of the employees of the Thiers factory. Installation imprinted dioramas of the nineteenth century (reproduction of scenes of wildlife), it illustrates a life-size hunting scene. Stuck in the rock or suspended arrows, objects at once precious and almost primitive, encamp the astonishing and archaic image of a suspended attack, stopped in its tracks.
Using the complex technique of Damascus, Charlotte Charbonnel has also tested several assembly, cutting and revelation experiments. These experiments are to be admired in his work Fulgure, also exhibited in the Cave.
The opening took place at the center of contemporary art, Le Creux de l'enfer in the presence of many guests including Claudine Dozorme and her team come in number to discover the work of Charlotte Charbonnel. It must be said that as Claudine Dozorme emphasizes, "the team proved to be in contact with Charlotte. Week after week, they were waiting for him. They were very generous to her and were able to meet all her technical expectations. It is a very beautiful experience that allows to show other aspects of the cutlery and to value differently the basin of Thiers ".
Nucleus and Fulgure by Charlotte Charbonnel, works that are both powerful and poetic to discover until September 22, 2019 in Creux de l'enfer.
Technical information
Nucleus
Variable dimensions
Design year: 2019
Materials: Damascus steel, brass, pump and sound device
Fulgure
5 cm x 200 cm
Design year: 2019
Materials: Damascus steel