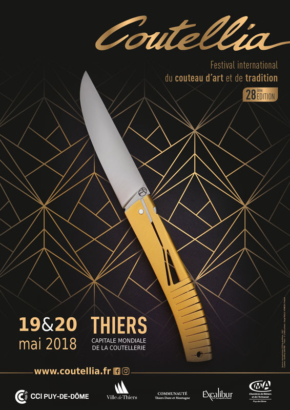 This time not far away or long journeys for Claude Dozorme cutlery. It is here in Thiers, in the heart of its production area, that the family factory will participate as every year in COUTELLIA, International Knife Festival of Art and Tradition, which will take place this weekend, the 19 and 20 may.
Organised by the Puy-de-Dôme Chamber of Commerce and Industry and supported by the Town of Thiers and the Thiers Dore et Montagne community of communes, COUTELLIA is the leading knife trade show in France. Every year, it brings together professionals and amateurs from France and throughout the world in a 2,500m² space in Thiers (Puyde-Dôme), a world capital of cutlery.
For this 28th edition, 230 exhibitors from 22 different countries (from Australia to Sweden via Japan and Russia) will come and present on 19 and 20 May in Thiers (63 – France) their know-how and their passion for knives. A golden opportunity to discover new cutlery trends but also techniques and know-how from elsewhere.
There will be also be events and highlights throughout the weekend at COUTELLIA. Thus, there will be an exhibition of ancient knives, forging and sharpening demonstrations, the assembly of knives, an initiation in the manufacturing of corkscrews and many other delights will be proposed to the public in dedicated spaces. This will no doubt enrich your cutlery culture.
Claude Dozorme cutlery will host throughout the weekend the many visitors expected on a dedicated stand in the heart of Hall 2. The family manufactory will present all of its knives Le Thiers®, Laguiole or Capucin by Dozorme, but also the "outdoor" novelties related to nature, open spaces and hunting.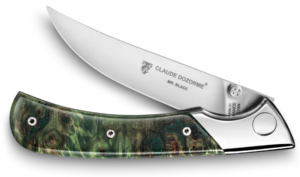 The opportunity to discover and admire the EOK pocket knife, fresh out of the workshops thiernois. With its imposing size of 24 cm as there are few on the market and its push button that facilitates the opening of a hand, the EOK pocket knife has been specially designed for all adventurers.
Practical Information
COUTELLIA
Salle Polyvalente Jo Cognet /Thiers
19 et 20 mai 2018
Hall 2 – Stand F21