At Claude Dozorme, nothing is left to chance ! Just as the knife blade has to be absolutely flawless, the h andle is a part in its own-right, carefully designed to give the object its exceptional quality and added value.Whether dressed in noble materials, leather or with inlay, Dozorme's handles are adorned with their finery.
Today, we invite you to discover one of the most amazing materials that our factory uses for the design of its Laguiole folding knives or Le Thiers® in their luxury version: the mammoth molar or tusk.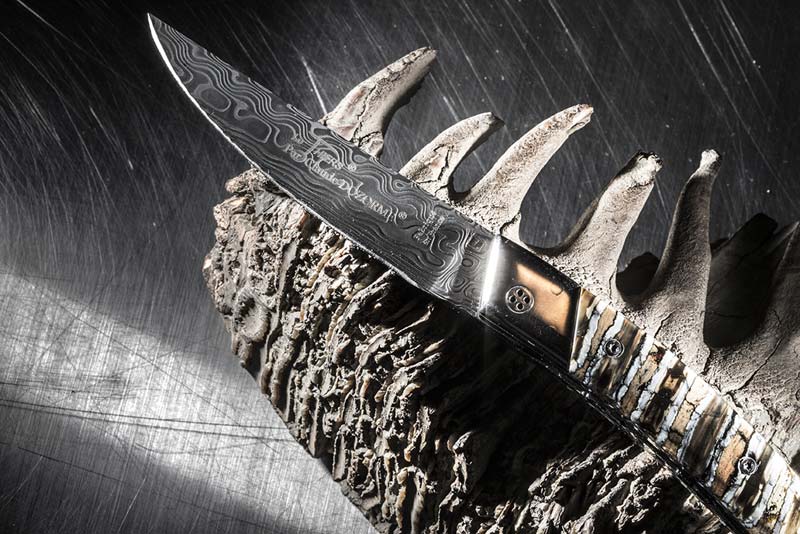 Photo credit : Denis Pourcher
Exceptional material, the mammoth molar makes it possible to further enhance our ranges of pocket knives, to bring them both a note of originality and an extreme refinement.
And the height of chic, our mammoth molar knives, entirely made in France, in our factory, are mostly mounted with a Damascus steel blade from Balbach, a specialist whose all secrets will be revealed soon.
An origin that goes back to the beginning of time
Mammoths appeared on Earth 100,000 years ago and were hunted by prehistoric humans for their meat, fur and tusks that they used to make weapons, tools and statues. Disappeared 10,000 years ago, their defenses are currently in permafrost (eternal freeze) in Siberia and Alaska. These frozen lands melt with global warming. Remained trapped in the earth for thousands of years, these tusks have kept their incomparable texture and warm cream color. During their long stay underground, they absorbed minerals that may have colored them. Sometimes the defenses are found in a terrain containing metal oxides. In this case, by millennial infiltrations in the heart of the tusk, the copper oxides give it a blue-green color, while the iron oxides give brown to reddish tones.
This ivory is fossilized, so its trade is perfectly legal (unlike elephant ivory). In addition, mammoth ivory or mammoth molars are not subject to the Washington Convention and therefore do not require a certificate of authenticity.